[ToScenes] ?s=i Super Scenes Download - Latest News
Nor is Warren's driving obsession wealth redistribution. That's important politically, because many Americans simply don't begrudge wealth, and "inequality" as a clarion call hasn't stuck. (Indeed, Democrats have begun to shift away from inequality as a label for what ails America's economy and culture. Some fear that white voters who are predisposed to racial resentments hear the word as code for a desire to transfer wealth from whites to blacks.)
Rather, Warren is most focused on the concept of fairness. A course she taught early in her career as a law professor, on contracts, got her thinking about the subject. (Fairness, after all, is a contract's fundamental purpose.) A raw, moralistic conception of fairness—that people shouldn't get screwed—would become the basis for her crusading. Although she shares Bernie Sanders's contempt for Wall Street, she doesn't share his democratic socialism. "I love markets—I believe in markets!" she told me. What drives her to rage is when bankers conspire with government regulators to subvert markets and rig the game. Over the years, she has claimed that it was a romantic view of capitalism that drew her to the Republican Party—and then the party's infidelity to market principles drove her from it.
Trump managed to exploit populist anger in part because he could go places ideologically that no Democrat would ever travel. As a matter of politics and policy, Democrats will never be the party of economic nationalism. Its voters are, on balance, more globalist than the Republican base. They tend to live in places that have prospered from trade and technology. They typically support immigration. But Warren has begun to outline the possibilities of a new center-left populism—one that gets beyond wealth redistribution alone.
loading...
At the core of Warren's populism is a phobia of concentrated economic power, an anger over how big banks and big businesses exploit Washington to further their own interests at the expense of ordinary people. This fear of gigantism is a storied American tradition, descended from Thomas Jefferson, even if it hasn't recently gotten much airtime within the Democratic Party. It justifies itself in the language of individualism—rights, liberty, freedom—not communal obligation.
There's a growing consensus among center-left economists that the dominance of entire industries by a few enormous companies is one of the defining economic problems of the era. The issue has gravitated toward the mainstream of Democratic Party thinking partly due to the work of Barack Obama's in-house economist, Jason Furman, a protégé of former Treasury Secretary Larry Summers. Furman revolted against the behavior of business leaders who came to call at the White House. Many of them didn't seem especially committed to capitalism. With their privileged access, they groveled for favors that would further their dominance. "They were like the Chinese," he told me recently. "They craved certainty. They wanted everything planned."
Everyone can plainly see the lack of competition in many sectors—the way that there are five big banks, four big airlines, one dominant social-media company, one maker of EpiPens. What's more, a small set of institutional investors—BlackRock, Fidelity, Vanguard—holds stock in a vast percentage of public companies, so even sectors that look somewhat competitive are less so than they appear. CVS and Walgreens, for instance, have a strikingly similar set of major shareholders. The same is true for Apple and Microsoft.
Furman argues that such business concentration is a leading cause of inequality and wage stagnation. Warren has come to believe in this same idea. As a senator, she can see how the ills of finance—the industry's concentration, its abuse of political power—have been replicated across the American economy. Last June in Washington, she gave an important speech, naming a long new list of enemies—oligopolistic companies like Comcast and Google and Walmart, which she blamed for sapping the life from the American economy. "When Big Business can shut out competition, entrepreneurs and small businesses are denied their shot at building something new and exciting." In making a Jeffersonian argument, she has begun to deploy Jeffersonian rhetorical trappings. "As a people, we understood that concentrated power anywhere was a threat to liberty everywhere," she argued. "Competition in America is essential to liberty in America."
Warren has not committed to running for president, either publicly or, according to close associates of hers, privately. But if she does run, she will likely seek to channel working-class anger toward behemoth firms, their executives, and the government officials who coddle them. It's not a terribly complicated case to build, since the headlines are so packed with the rent-seeking exploits of those firms: the continued predations of banks on their own customers; airline overbooking; life-saving allergy injections that cost hundreds of dollars; cable companies exacting ever-higher fees; the exposure of low-level workers to such erratic hours that it becomes impossible to establish a daily routine; a broad indifference to consumers.
The approach exudes a Trumplike hostility to Washington elites, but not necessarily to government. And nearly the entire Democratic agenda can be justified through its prism: Obamacare preserves freedom and loosens corporations' grip on their employees, by allowing workers to switch jobs without fear of losing health insurance. Criminal-justice reform is an effort to secure liberty and equality from an abusive apparatus of the state.
A turn toward populism will never be enough to win back a state like West Virginia, which is now deep-red. And there are legitimate questions about whether a strident former Harvard professor, no matter her Oklahoma roots, can effectively purvey that message to a sufficiently broad audience. But Warren's brand of populism could help cool white-working-class hostility toward the Democrats and persuade the likes of Greenberg's focus-group members to switch allegiance again. Empathy with economic disappointment, and even anger over the status quo, might reduce the sense that Democrats are perpetrators of the status quo. And liberal populism would take the party beyond ineffectual arguments about Trump's temperament. A populist critique of Trump would point to his fraudulence as an enemy of the system, a fraudulence that perfectly illustrates everything wrong with plutocracy.
Whether or not Warren runs for president, evidence for the resurgence of liberal populism can now be seen in numerous parts of the Democratic establishment—not least in the barometrically sensitive form of Chuck Schumer, whose new job as the Senate's minority leader demands that he understand and distill the mood of his caucus. This March, I met him in his ornate lair just off the floor of the Senate. When I entered his office, Schumer was compressed into the corner of an antique sofa, his tie loosened and his feet resting on a coffee table.
The populists have never considered Schumer one of their own. But as he riffed about the trajectory of the party, he mouthed their talking points. Insufficient fidelity to populist ideas, he argued, had cost Democrats the election: "We didn't have a strong, bold—populist, if you will—economic message." He blasted financial elites, monopolies, and Chinese mercantilism. These weren't stray observations. He has included Warren and Sanders on his Senate leadership team, and traveled with Sanders to rally support for Obamacare in Macomb County.
---
>
From Our July/August 2017 Issue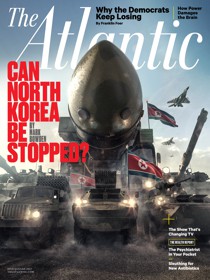 Try 2 FREE issues of The Atlantic
Subscribe
---
The party's movement toward populism, ironically, could also be seen well before Election Day—in the guts of the Clinton campaign. Clinton leaned heavily on Elizabeth Warren's allies to craft her regulatory apparatus. Heather Boushey, who led economic-policy planning for Clinton's transition team, told me, "This was teed up to be the most progressive administration in recent American history." There's a certain tragedy to that description. Clinton had developed what was in many ways a populist agenda, but she apparently could never get past her own self-consciousness about Wall Street speeches and fund-raising in the Hamptons to make these issues her own.
To win again, the Democrats don't need to adopt an alien agenda or back away from policies aimed at racial justice. But their leaders would be well advised to change their rhetorical priorities and more directly address the country's bastions of gloom. The party has been crushed—not just in the recent presidential election, but in countless down-ballot elections—by its failure to develop a message that can resonate with people beyond the core members of the Obama coalition, and by its unwillingness to blare its hostility to crony capitalism. Polling by the group Priorities USA Action shows that a stunning percentage of the voters who switched their allegiance from Obama to Trump believe that Democratic economic policies favor the rich—42 percent, nearly twice the number who consider that to be true of Trump's agenda.
The makings of a Democratic majority are real. Demographic advantages will continue to accrue to the left. The party needs only to add to its coalition on the margins and in the right patches on the map. Doing that does not require the abandonment of any moral principles; persuasion is a different category of political activity from pandering. (On page 60 in this issue, Peter Beinart describes how Democrats might alter their language and policies regarding immigration to broaden appeal without sacrificing their principles.) A decent liberalism, not to mention a savvy party, shouldn't struggle to accord dignity and respect to citizens, even if it believes some of them hold abhorrent views.
Victories in the culture wars of the past decade seemed to come so easily to liberals that they created a measure of complacency, as if those wars had been won with little cost. In actuality, the losers seethed. If the Democrats intend to win elections in 2018, 2020, and beyond, they require a hardheaded realism about the country that they have recently lacked—about the perils of income stagnation, the difficulties of moving the country to a multicultural future, the prevalence of unreason and ire. For a Democratic majority to ultimately emerge, the party needs to come to terms with the fact that it hasn't yet arrived.
Source : https://www.theatlantic.com/magazine/archive/2017/07/whats-wrong-with-the-democrats/528696/
Thanks for your visiting my site.